The Hellig Olav had a tonnage of 10.085 tons gross, 6.506 under deck and 6.061 tons net. Dimensions: 500.8 feet long, 58.3 feet beam (152,63m x beam 17,77m) and holds 29.2 feet deep. Poop 44 feet long and bridge 176 feet long. The forecastle was 59 feet long. She was bult in steel, had one funnel, two masts (Schooner), 2 decks and awning deck. She was fitted with electric light and refrigerating machinery. Water ballast, twin screws and a service speed of 15 knots. Propulsion:
triple expansion engine
with 6 cylinders of 30, 50 and 80 inches diameter each pair; stroke 54 inches; 940 nominal horsepower. The engine was built by the same company as the hull. In 1907 she was fitted with radio telegraphy. She had a crew of 211.
She left Copenhagen on her maiden voyage, mastered by Capt. Holst, on March 25th 1903, called at Kristiania on March 26th and arrived at New York on April 9th. According to N.R.P. Bonsor (North Atlantic Seaway, vol.3, p.1240), there was accommodation for 130 first class-, 140 second class- and 1.400 third class passengers, but according to Thorsøe (DFDS 1866-1991 by Søren Thorsøe a.o) there was accommodation for 123 first class-, 129 second class- and 837 third class passengers. Both might be right, as she was refitted several times. In January 1922 she was refitted to carry cabin class and third class passengers only, and in June 1927 refitted to carry cabin, tourist and 3rd class. She sailed from Copenhagen on 6th September 1931 on her last voyage to Oslo, New York (dep 23rd Sept), Christiansand, Oslo and Copenhagen and in 1934 was scrapped at Blyth. The S/S Hellig Olav,
S/S Oscar II
and the
S/S United States
were sister ships. These three steamers were all built at the famous shipyards of Alexander Stephen and Sons, on the Clyde, Scotland. All of them have double cellular bottoms divided into 10 watertight compartments, and in addition to that they were divided from bottom to deck by 10 other watertight compartments. They also had bilge keels to insure maximum steadiness at sea.
ACCOMMODATIONS FIRST CLASS
First cabin accommodations on these steamers were located amidships on the promenade and saloon decks. The staterooms were of liberal size, and well ventilated. They contained washstands, wardrobes and sofas. Hotchkiss Patent berths were installed throughout, permitting the upper berths to be closed out of sight when out of use. The "Oscar II" had two "chambres de luxe", located on the promenade deck. These were luxuriously furnished, with silk hangings and draperies, and equipped with brass beds.
The first cabin dining room was a magnificent apartment, extending the full width of the ship. The walls were of polished oak and mahogany and the furnishings strikingly. Small group tables, dainty table furnishings and porcelain combined to produce a dining room of unusual attractiveness and beauty.
Located well forward on the promenade deck was the Music Saloon. On one side of the Music Saloon was located the Ladies' Saloon and on the other side a comfortable Library and Writing Room. Further aft, on the same deck was a Smoking Room. Numerous baths, showers and lavatories were conveniently located on the promenade and saloon decks. The cabin barber and hair dressing shop was on the saloon deck. The entire upper promenade and the forward part of the saloon promenade deck were reserved for the use and convenience of First Cabin passengers. Steamer chairs and rugs could be obtained from the deck steward.
THE SECOND CABIN ROOMS
The Dining Room, located on the saloon deck, was finished in polished oak, and in furnishings and attractiveness was comparable with the First Cabin Dining Room. The Smoking Room and Ladies Room were likewise furnished and decorated with the idea of providing passengers with every comfort and most of the luxuries of the first cabin. The Second Cabin Staterooms for two, three and four passengers were located on the saloon and upper decks, and were furnished in the same style as those in the First Cabin. There were also numerous baths and lavatories. Second Cabin passengers had the exclusive use of the amidships and aft part of the saloon promenade deck.
THIRD CLASS
There was no
steerage
on the ships, as they operated with a third class. The third class staterooms, all of which were spacious, and well ventilated, were comfortably furnished with iron beds, springs, mattresses, sheets, pillows and blankets, wash-stands, mirrors, towels, soap and water. They were also supplied with fresh drinking water, and kept in order by stewards and stewardesses. They could accommodate two, four and six passengers, enabling whole families to keep together. Meals were served by uniformed waiters in clean dining rooms at tables set with clean linen and porcelain tableware, and the food was of good quality, cooked in the palatable Scandinavian style, served plentifully, and with a wide variety in the menus. Ample deck space for open air promenading and exercise was reserved for the third class passengers. Ladies' saloon, well furnished comfortable smoking rooms, barber shops and many baths were a few of the conveniences furnished to those traveling in third class. The services of a physician and nurse, and the facilities of a well equipped hospital and dispensary were at the service of passengers. The same standards of courtesy and cleanliness that made traveling in the first and second cabins were also found in third class. Women and children traveling alone were in the care of a special matron and stewardesses.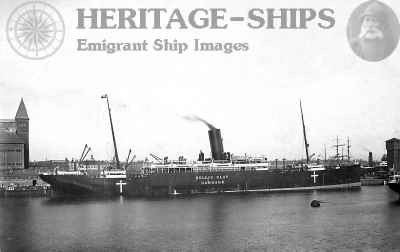 Hellig Olav - Scandinavian America Line steamship
Support Norway Heritage: Purchase a copy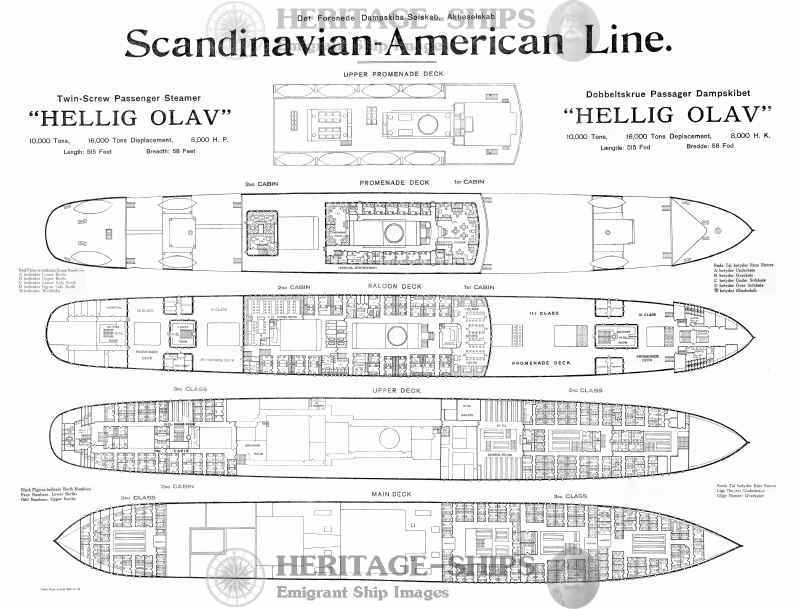 Hellig Olav - deck plan showing the arrangements for the different decks.
Support Norway Heritage: Purchase a copy